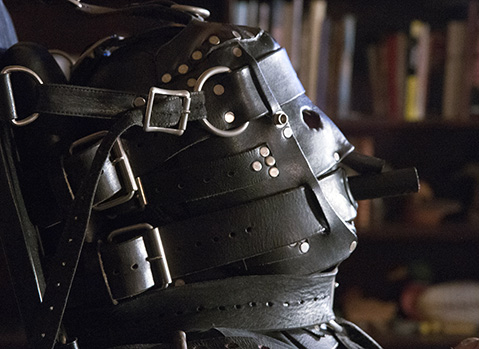 BadNomad is a heavy leather bondage fetishist. Having lacked any BDSM community from the start, BadNomad created devices that would give him the complete leather encasement and bondage that he craved, with features like straps he could tighten by himself while he was almost completely bound. Click HERE.

> Full Story Here



MAYUMI'S WONDERLAND
(04 Feb, 16)

She realized from an early age that her tastes were a bit on the darker side.

STRANGE HOBBIES
(08 Nov, 15)

As our friend Strange Hobbies will show you, there's no such thing as 'the average kinkster'.
GRIMLEY'S CHAIR
(12 May, 15)

The chair has straps to restrain the hands, feet, body, and head. This is serious bondage.

PRISON EXPERIENCE
(07 Apr, 15)

For many people, the idea of being imprisoned in a jail cell is a horrifying one.

BONDS OF MATRIMONY
(05 Mar, 15)

I'm glad that we got to celebrate 'tying the knot' with so many kinky people.

LONG STRANGE TRIP
(12 Jan, 15)

I was like most bondage guys, awkward and uneasy about having these desires...

BONDAGE JOURNEY
(04 Jul, 14)

After a long vanilla career it is time to pursue my kinky interests and let it all hang out.

A DANGER TO YOURSELF
(17 Jun, 14)

Court ordered restraint and observation is an interesting and popular fantasy.


MY HAPPY PLACE
(06 Feb, 14)

Deep inside I feel nervous and uneasy; Would someone please tie me up?

Although you may enjoy them all, what is your current favorite bondage material?