BadNomadTwo

Gravity pulls but I do my best to defy It.

Come night fall, I look for bondage, peace ín' quiet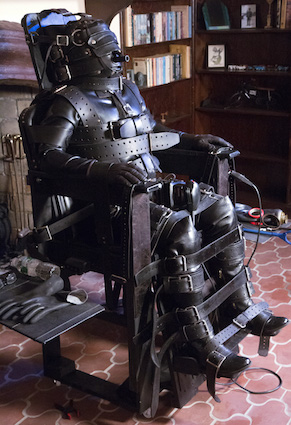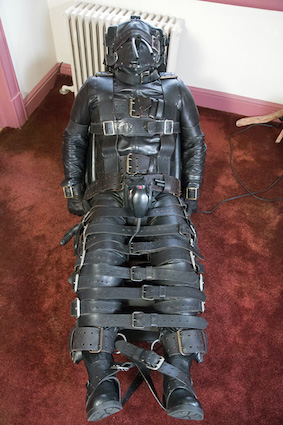 Badnomad is a heavy bondage lover who especially enjoys leather bondage. He crafts his own complete bondage experiences which work quite well, as you can see. On the left is his straight-back, traditional-type chair, which bears an uncanny resemblance to the electric chair of days passed. On the right we see him in his recliner bondage chair. Not your average La-Z-Boy!

I call myself the BadNomad, but I'm really not too bad, and I've gotten pretty good at this bondage thing which has been with me for most of my life.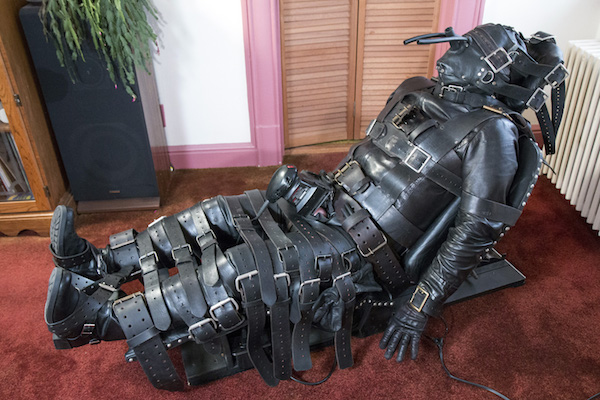 Another view of BadNomad in his bondage recliner chair. Once he has secured all of his leather straps and restraints, he is sent off into bondage heaven.

In my early days, my grandfather placed me on a carousel horse, and secured me with a wide leather strap. Something about that helped to start me on my journey into leather and bondage. I was aware of an affinity for leather, and it was something that struck me and has been with me for all of my life.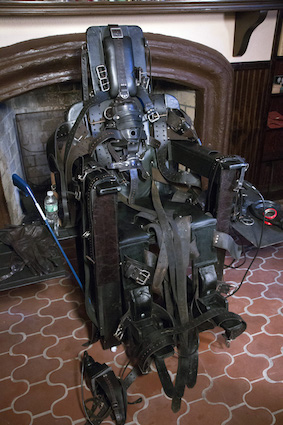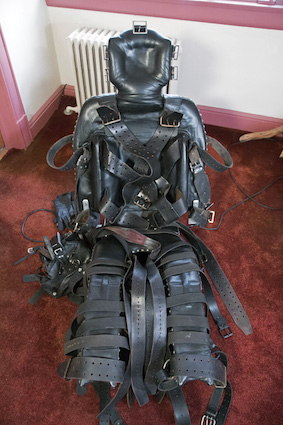 Here is the straight-back bondage chair on the left, and the recliner bondage chair on the right, as seen in his home on Long Island in New York. They simmer with the kinetic energy of the strict bondage to come.

As I've grown, it's always been' the more the better' when it comes to bondage. My fantasies for bondage brought me to a dangerous situation at one point early on when I was experimenting. I had placed a rope around my neck and stepped off and could hardly find my footing again. This experience, plus seeing scout masters tie up people to teach them rope knots, gave me a disdain for rope. If they had used leather straps I might have been more inclined to become a boy scout.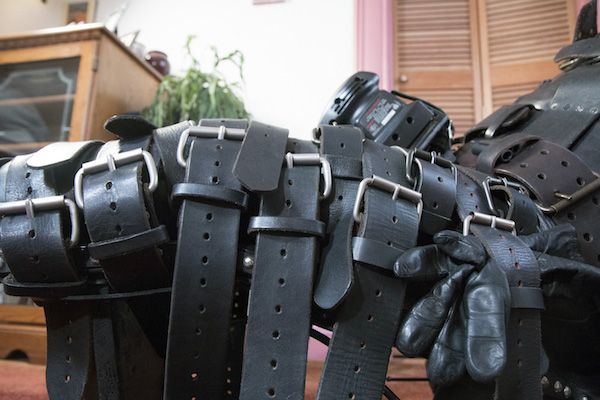 As you can see from his bondage style, when he says more is better, he really means it. When he is done with his self-bondage techniques, there is not one inch of him that is not covered by leather bondage.

I remember being found in bondage in the attic just a few years after that, in a leather cycle jacket (which had been given to me by my grandfather), leather gloves, an a huge hard on. Nothing was said but just, "Get down!" However, it was then that I knew I had found my niche. I've spent the rest of my life expanding on it and I have no regrets.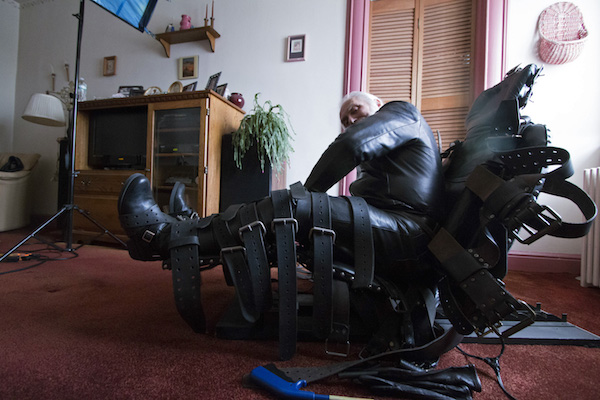 Say "hello" to Bad Nomad here, in a rare glimpse of his visage, as he prepares himself for a journey in his recliner chair to the special place he goes whenever he is bound completely.

It must be understood that this has been a lonely existence, and has limited me so much in my relationships. I was lucky for a time, having met and married a woman who was willing to share in my kink and fetish. That lasted about fourteen years, then it was back to the solitary life, until I ventured out and gave role playing a try with a mistress.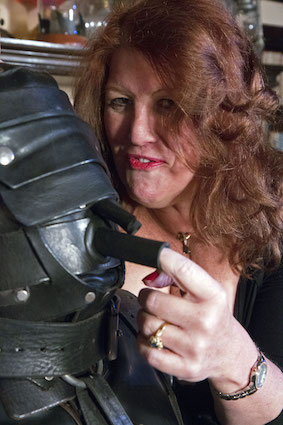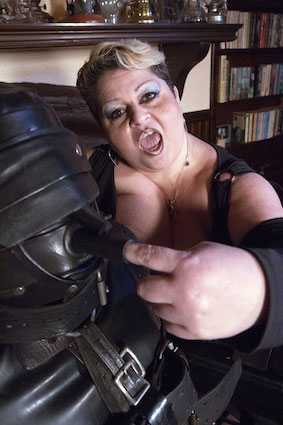 Even though he hasn't always been able to find people who can share in his kink, he now says, "I'm lucky to know a few lovely ladies who I enjoy spending time with. Here are my two special friends Barbara the saucy redhead, aka Babszz on Fetlife, and wild Angelina, aka Fetlife's BellAngelina."

Having a mistress was very good for me and it lead to a relationship, which also gave me the chance to build one of Long Island's first commercial dungeons. This was a real learning experience, both in a business sense, but also because I learned that my heavy leather bondage fetish was not very prevalent in my area. I had also joined a private club with house parties, but there was not too much in the way of heavy bondage there, either.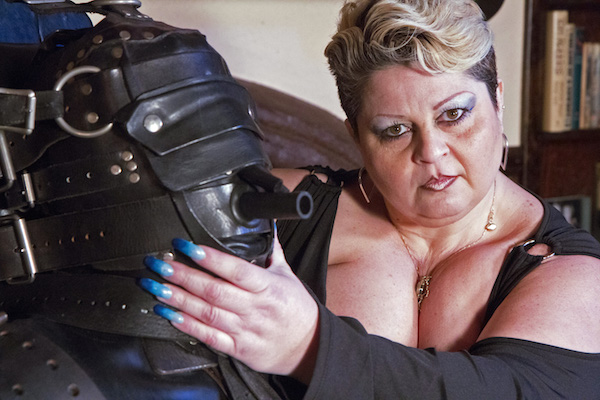 BellAngelina provides her mad inventor with friendship and kinky camaraderie. She has him in her clutches and he loves every minute of it.

My influences have come from my own imagination and others such as Jeff Gord, JG-Leathers, and a catalog once given to me by the girls at the dungeon. This catalog was from Mr. S and had a photo of a bondage chair on the back page.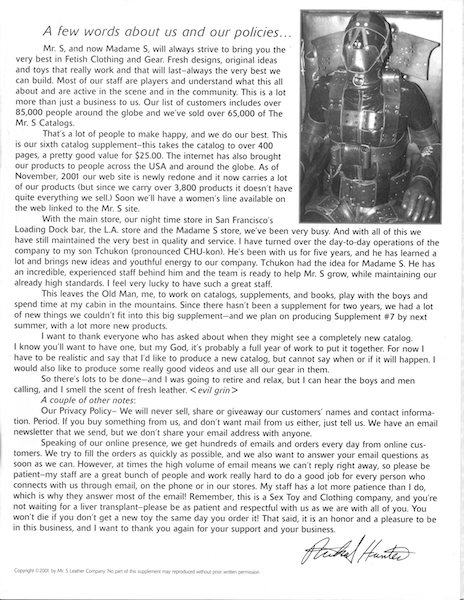 Here is the exact page that inspired me many years ago. Amazingly, the chair in the photo was made by Mark who created this website. The photo was taken at the Mr S store in San Francisco during the 2001 Folsom street fair. Mark had loaned the chair to Mr S so it could be on display when customers entered the store.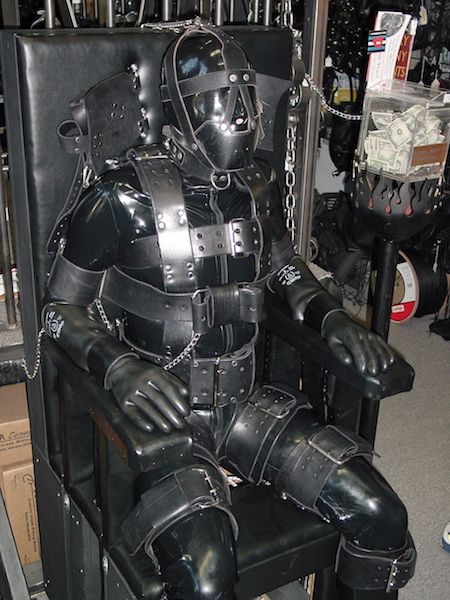 When working on this article, Mark turned up this photo of the same chair, shot at the same time as the previous catalog photo above, only with a different camera. It seems we were fated to be friends. I can't believe we wound up meeting each other after so long.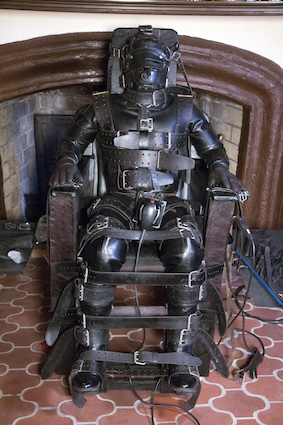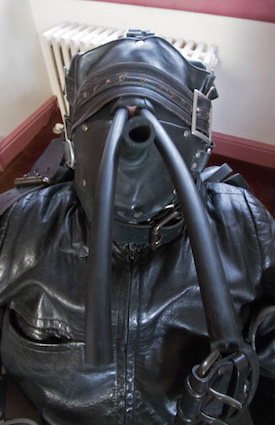 You can see influences that Mark's chair had on BadNomad and his bondage chairs. The theme seems to be lots of straps, scary and intimidating to look at, and completely inescapable.

Mark and I seem to have evolved a similar concept of bondage, unbeknownst to each other! The Mr. S catalog gave me insight into "serious bondage" and the high quality and intensity of bondage I had long been searching for.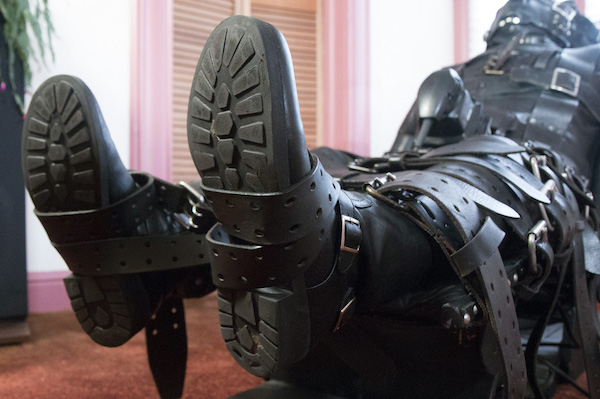 BadNomad is into full bondage from head to toe. That includes wearing heavy leather boots and binding his feet and legs with sturdy leather straps.

My dungeon life lasted about a year, the home parties ended, and I was once again left to my self-bondage. It was a very lonely existence. Sometimes I got so lonely, it pained me to the bone. I felt as though I was walking through the darkest catacomb. I still kept building more and more self-bondage gear, but I became quite apprehensive about doing self-bondage, from a safety perspective. So I reached out and went online, trying Fetlife for the first time.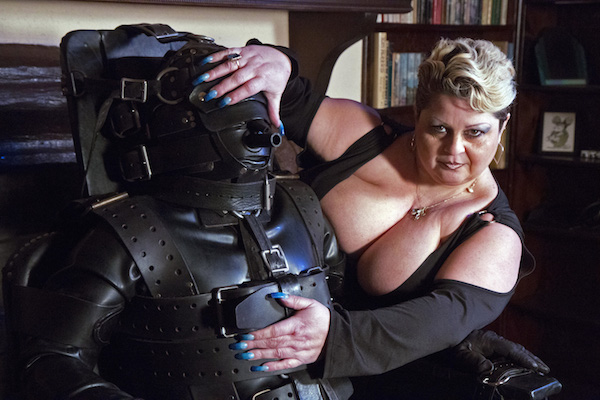 Again, BadNomad reiterates that he feels lucky to have met BellAngelina and Babszz, two friends who understand his kink and give him what he wants and needs. They can be quite inventive!

My first post was to the Long Island crowd: "Am I alone?" I wrote. I wanted to know if I was the only one with a taste for heavy leather bondage. My first reply came in: "Yes, you're alone." Then I got almost one hundred comments from people with no concept of leather bondage at all. Messages came pouring in, but they were all about naked spanking and rope play and a few other kinky odds and ends.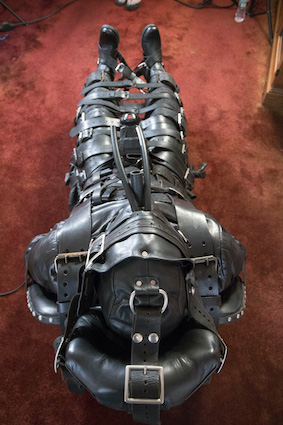 As you can see, the regular rope and spanking that occurs at some BDSM play parties will not sate BadNomad's desire for total bondage.

However, this Fetlife experience did give me the chance to make a presentation to a Long Island group. Now two ladies who attended that presentation have become my closest kink friends.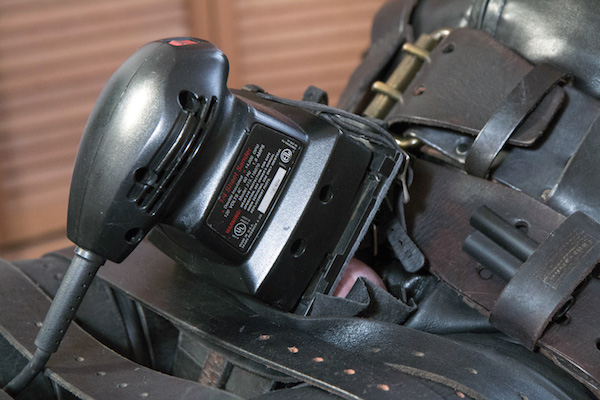 Many kinksters know that a hardware store is the best sex toy store. BadNomad enhances his bondage experiences with a strategically placed and safely modified vibrating electric sander. BadNomad calls his Sander vibrator 'The Pecker Wrecker'.

Angelina and Barbara came up to meet me after my presentation. Most attendees were very intrigued, but only Angelina and Barbara followed through with their friendship. I have been trying my best to further corrupt them ever since. We attend events together and try to look out for each other.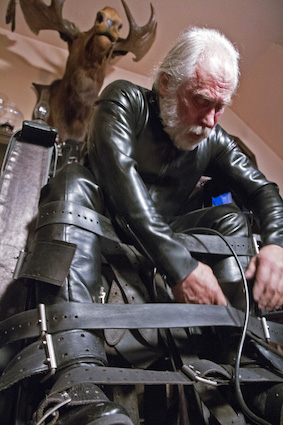 BadNomad places himself in all of the bondage you see here, which is an astonishing feat!

With their interest and encouragement, I have started building equipment again. It's based on whatever comes into our minds or imaginations. I don't spend a lot of money building bondage equipment. Often I strip leather sofas that have been thrown out, as leather straps are somewhat hard to come by and can be quite costly.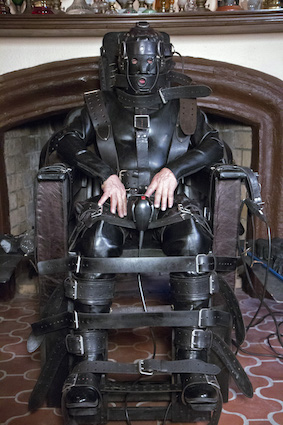 BadNomad with almost all of his bondage on in his straight-back chair. It's impressive when you consider he has gotten himself into this all alone.

I seem to have been born to do this. I try to make what I can imagine a reality, reinforced by the images I have found through my search for more and more fetish and bondage. I often go back to the things that rolled through my mind so very long ago, and I continue to be inspired by them..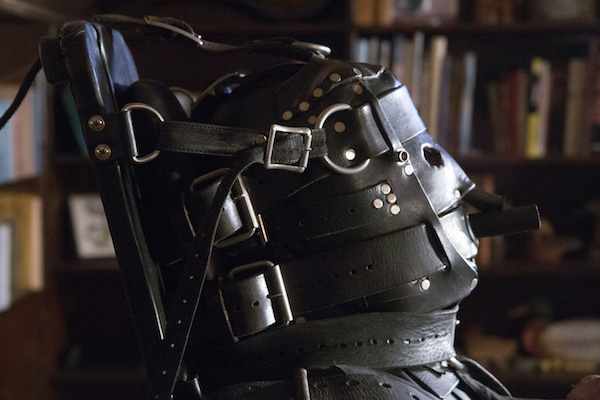 A close up of some of the detail and layering on BadNomad's head bondage. He also has a blindfold that goes over the eye holes to complete the experience.

------------------------ VIDEO PLAYER GOES HERE -----------------------

In this video clip MummyEd introduces us to BadNomad, and we see the ingenious leather self-bondage systems of both his straight-back chair and recliner chair. Full length videos of our visit with BadNomad and details about his chairs can be found on
SeriousMaleBondage.com
. Check it out!

It was at yet another presentation that I made contact with two bondage lovers who have become my very good friends. I feel lucky to have caught the eye of MummyEd and Mark from Serious Bondage, who now give me this chance to tell my story and show my bondage creations. And I can't get over how the chair that inspired me in that Mr. S catalog was Mark's creation! Whenever Mark and Ed show up at my door, and we stand eyeball to eyeball and hug each other warmly, I just think: "Toto, we're not on Long Island any more!"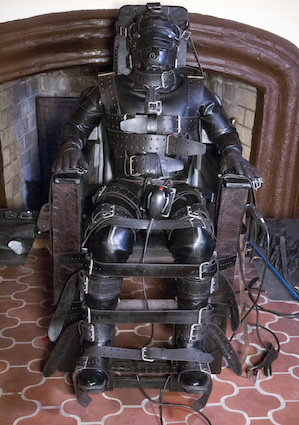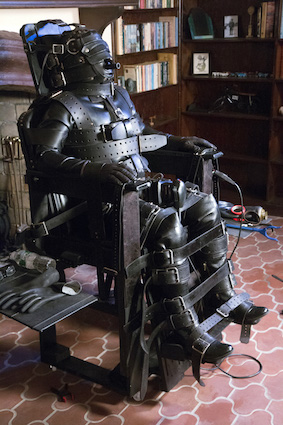 BadNomad in his happy place, secure in his own device behind layers of leather.

I really can't question what might be my fate.

I've gotten what I wanted, but it's coming on so late.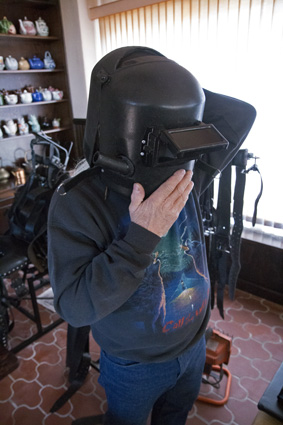 BadNomad tries on another of his Rube Goldberg-style bondage creations: his homemade bondage helmet.

Thank you, Mark and MummyEd, for your friendship, your extraordinary manners, and all of your efforts to unite and entertain the kinksters of the world.

You took me from the darkness,

Could not tell wrong from right.

I was standing in the shadows,

You've given me some light.

~ Thomas, aka Thomas Two Feathers, the BadNomad, gimp of Babszz & BellAngelina.

BadNomad can be found on Fetlife under the name BadNomadTwo.
Videos featuring BadNomad and his chairs can be found on SeriousMaleBondage.com. Also check out our sister site SeriousImages.com. The real deal.